One Step Glue Powder Resin is a ready-mixed Urea Formaldehyde Powder Resin, which only needs to be mixed with water prior to use. It does not require a hardener or hot press. It produces an excellent bond on porous and semi porous materials such as soft or hard wood, plywood, particle board, Medium Density Fiberboard (MDF), Oriented Strand Board (OSB), parquet or wooden flooring, wooden furniture, and other wooden crafts.
PRODUCT VIDEO
PRODUCT SPECIFICATION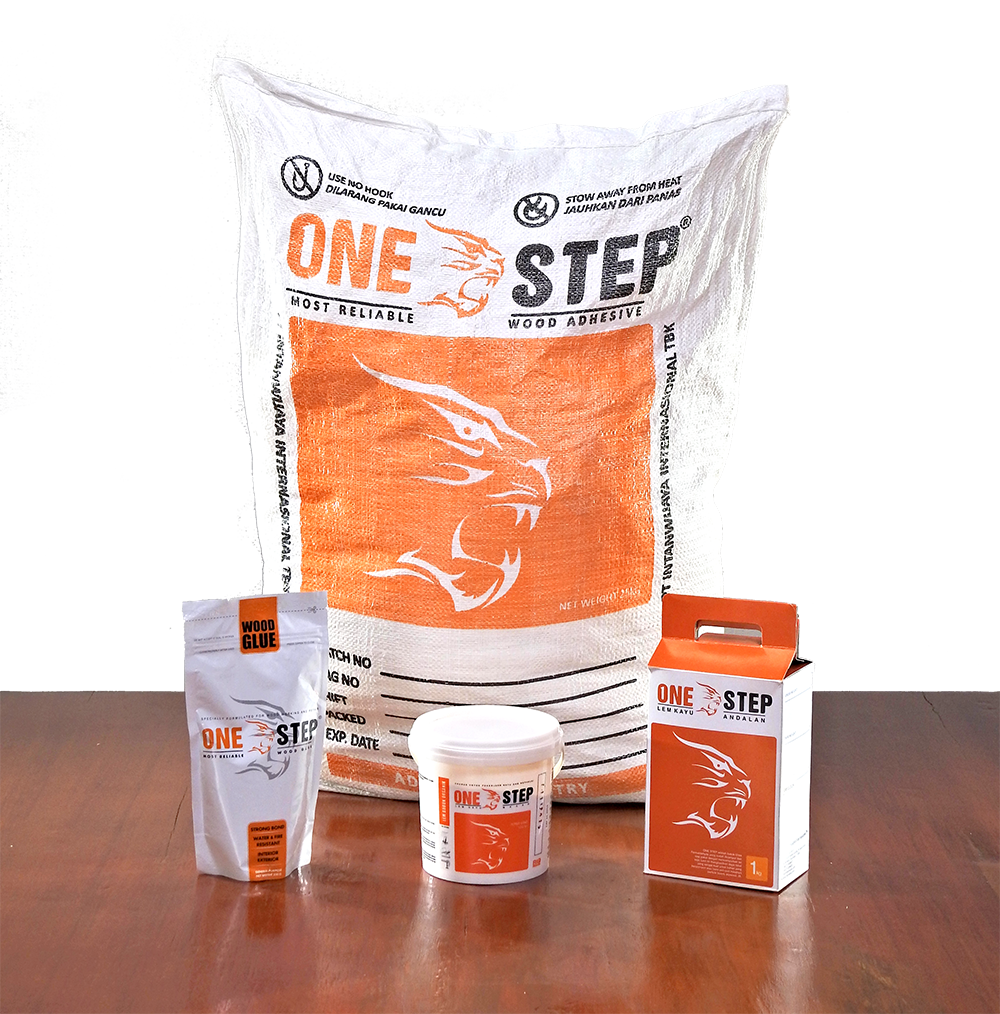 Form: Powder
Color: Light Brown (before mixing), Dark Brown (after mixing)
pH: 6.0 – 7.0 (at 30°C)
Viscosity: 2,500 – 4,500 cPS (at 30°C)
Resin Content: 90 – 91%
Gel Time: 1 hour
Curing Time: 5 – 6 hours
Free Formalin: 1 – 1.5 %
Shelf Life: +/- 6 months (at 30°C)
APPLICATION
Production of wooden furniture and wooden handicrafts,
Doors, windows, and other builder's wood works,
Veneering, laminating, paneling, edge-gluing operations,
Wood flooring such as on dance floors and indoor basketball courts,
Carpentry and reparation of wooden products,
To be used to fill holes on wood, by simply adding saw dust.
FEATURES
Strong Bond Strength – 7kg/cm2 or 44kg/inch2 according to International Standard of Federal Specification MMM-A-188b, Type II.
Highly Durable – resistant to water, fire, heat, mold, fungi, bacteria, oil and solvents.
Does Not Shrink – prevent the formation of hollow pockets within wood which can lead to uneven surfaces and encourage growth of mold, fungi, bacteria and insects.
Mimics Wood – when cured, it can be sanded, painted or varnished.
Multi Purpose – can be applied as wood adhesive and filler (by adding saw dust).
Easy to Prepare and Use – requires no hardener when mixing. Just mix it with water whenever it's needed. Can also be applied on hot and cold pressing operation.
Easy to Clean – water soluble prior to curing, thus used equipments can be easily cleaned by water.
APPLICATION DIRECTIONS
Mix One Step Glue at ratio of 2 parts of powder resin + 1 part of water. To avoid waste, mix only the amount sufficient for one hour's use.
Stir thoroughly until the mixture becomes a smooth paste, free of lumps.
Use brush or piece of wood to spread glue mixture thinly on the surface. One side is enough. Make sure the surface is clean, free from moisture, grease or dust.
Clamp or press while the glue mixture is still wet or tacky, and let a little glue squeeze-out from the joint upon pressing to indicate adequate glue spread. Wipe out excess glue with cloth before it dries.
STORAGE INSTRUCTIONS
Keep in air tight container, cool dry place, max. at 30°C.
Keep away from direct exposure to sunlight, water and moisture.
Do not mix expired or damaged powder with fresh powder
PACKAGING
One Step Glue is available in packaging size of 250g, 500g, 1 kg and 25kg.
---
*Please send inquiry on this product here or send email to info@intanwijaya.com
*Shop online at Tokopedia