A special form powder resin developed from liquid Urea Formaldehyde Resin. Given the shelf life of up to 12 months, UFP 1001 is easier to transport between islands and countries. It is very suitable when production time is unpredictable.
Mainly for the manufacture of plywood, UFP 1001 can also be used in the assembly of high-grade furniture, edge-gluing, doweling, finger-jointing, and other similar woodworking operations. Manufacture of particle board, chipboard, MDF, and the overlaying of decorative paper or veneers is also applicable.
PRODUCT VIDEO
PRODUCT SPECIFICATION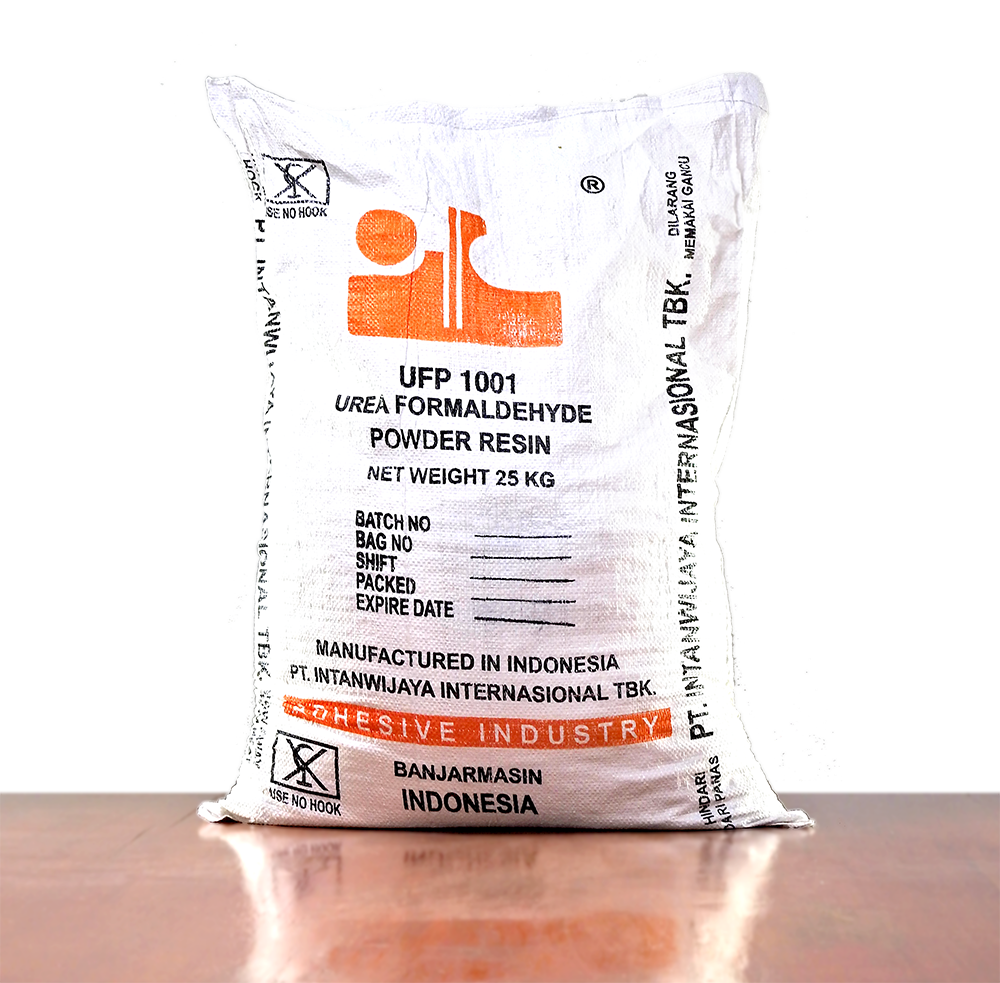 Form: Powder
Color: White
pH: 8.0 – 9.0 (at 30°C)
Viscosity*: 1,700 – 2,500 cPS (at 30°C)
Resin Content: 99.2 – 99.5%
Gel Time**: 20 – 40 min
Moisture Content: 0.5 – 0.8%
Particle Size (Dry): < 30 mesh
Shelf Life: +/- 12 months (at 25°C)
Packaging: WPP bag of size 25kg
Notes:
Specifications can also be adjusted upon customer request.
* Viscosity = 100g UFP 1001 + 50g water
** Gel Time = 100g UFP 1001 + 50g water + 0.5g NH4Cl
INTERNATIONAL STANDARDS
The optimal quality of UFP 1001 complies with the following international standards of plywood manufacturing:
| | |
| --- | --- |
|  Japanese Standard | : JAS A 5908 – 2003 Type II |
| |   F*1, F*2, F*3, F*4 |
|  European Standard | : EN 636 – 2003 Type II E2, E1, E0 |
|  American Standard | : US – EPA and CARB Type II |
RECOMMENDED FORMULATION
The following formulation is recommended for optimum bond quality at an acceptable cost level:
| | |
| --- | --- |
|  UFP 1001 | : 100 parts by weight |
|  Industrial grade wheat flour as filler | : 30 – 50 parts by weight * |
|  Hardener | : 3 – 5 parts by weight |
|  Water | : 100 parts by weight * |
Note: *means that it is subject to variations in the water taking capacity of the wheat flour, the above formulation may have to be adjusted appropriately for optimum viscosity and pot life.
MIXING PROCEDURE
The above formulation should be mixed according to certain steps as follows:
First pour 2/3rds of the required water into the mixer followed by all of the UFP 1001 and start the mixer.
After mixing for a few minutes, add all required filler and continue mixing until all the lumps smooth out.
Last, add the remaining water and all the Hardener and mix for another 2 – 3 minutes. The mix is then ready to be spread.
GLUE SPREAD
Glue amount for glue spread requirement depends heavily on factors such as veneer texture, thickness, temperature, moisture content and porosity. ambient temperature and humidity, assembly time and pre-press time. Generally a higher spread is required when veneers are rough, thick and warm. This is also true when the assembly time is excessively long. Optimum spread values should be determined by practical trials.
The following schedule may be used a guide only:
 Core Thickness
 Glue Spread (SGL)
 lbs/1000sqft
 g/sqft
 Below 1.8 mm
 29 – 35
 13 – 16
 2.1 – 2.5 mm
 33 – 39
 15 – 18
 3.2 – 3.8 mm
 38 – 40
 17 – 20
 4.2 – 5.0 mm
 40 – 46
 18 – 21
Note: It's strongly recommended that glue spread be checked at regular intervals per production day. This could be achieved by spreading core veneers and determining resin pickup by weight difference.
PRE-PRESS
As a guide, a pre-press period of 9 -12 minutes is often satisfactory. Normally a specific pre-pressing pressure of 10 – 15 kg/cm2 should suffice. During pre-press it's often necessary that caulk boards be placed within the load and spread about 12 inches apart. After pre-pressing the panel should be hot-pressed immediately or dead-stacked for no more than 30 minutes (refer to closed assembly time) before hot pressing. When panels are dead-stacked, it's recommended that the top panels be weighed down by caulks to prevent possible curing on face veneers.
PANEL ASSEMBLY TIME
– Open Assembly Time
This is the time period from glue spreading onto the veneers; to the time when the assembly is cold pressed. For optimum results in bond strength, it is recommended that open assembly time should not exceed 30 minutes. This could be achieved by setting open assembly time to a constant time, say 25 minutes, rather than allowing it to vary by keeping the number of panels assembled constant. The latter would lengthen the assembly time when core veneers are loose.
– Closed Assembly Time
This is the time period between immediate completion of cold pressing and the beginning of hot pressing. For optimum bond results, this time should be kept to minimum, preferably less than 30 minutes.
HOT PRESSING – LOADING TIME
This is the time period elapsing between placement of the first panel assembly in the press and the application of full pressure to the whole press load. To avoid any risk of pre-curing, loading time should be kept as short as possible, preferably no more than 2 minutes. The glue must still be tacky, hence capable of flow prior to application of full pressure.
HOT PRESSING – PRESSING PROCEDURE
The required specific pressure on the plywood panels depends on factors such as  panel thickness and veneers species and texture. The following time allocation may be used as a guide;
| | | | |
| --- | --- | --- | --- |
|  Plywood Thickness (mm) |  3 – 6 |  9 – 16 |  18 – 25 |
|  Specific Pressure on Plywood (kg/cm2) |  9 – 11 |  10 – 12 |  12 – 14 |
HOT PRESSING – PRESSING TEMPERATURE AND TIME
The required press time for each type of construction may vary according to such factors as the number of plies that make up the panel, thickness of veneers used, wood acidity and platen temperature. The following temperature allocation may be used as a guide to determine the actual time required;
– Basic time
| | | | |
| --- | --- | --- | --- |
|  Press Temperature |  100°C |  110°C |  120°C |
|  Basic Setting Time (minutes) |  1.5 |  1.0 |  0.75 |
– Heat Penetration Time (minutes/mm)
 Distance to Deepest Glue Line
 Glue Spread (SGL)
 100°C
 110°C
 120°C
 Below 4 mm
 1.0
 0.9
 0.8
 4 – 6 mm
 1.2
 1.1
 1.0
 Over 6 mm
 1.4
 1.3
 1.2
Note: Do not use higher hot press temperature to attain shorter pressing time period unless the veneers' moisture content are carefully controlled. always remove panels as soon as the press opens.
The recommended core veneer moisture content is minimum 6%, optimum 8 – 10% and maximum 14%.
STORAGE, CLEANING AND HANDLING
UFP 1001 should be stored in a cool and dry place, away from direct sunlight, water, high temperature and high humidity.
Heat and moisture will cause the powder to harden and become rapidly damaged.
UFP 1001 glue mix can be washed with water of normal or warm temperature. If cleaning is rather difficult, use 10% Urea solution to help the process.
Do not mix UFP 1001 with Phenol Formaldehyde Resin for Water-Boil Proof grade plywood which is alkali in nature. If Phenol Formaldehyde Resin has been used in the glue mix before UFP 1001, then the mix should be cleaned before changing into UFP 1001.
PACKAGING & SHIPPING
UFP 1001 is packed in 25kg WPP (Woven Polypropylene) bag with double inner plastic (HDPE and LLDPE) and double heat seal. A unit of 20ft container should contain up 20 MT.
---
*Please send inquiry on this product here or send email to info@intanwijaya.com